Woolworths Group takes EDI certification to the next level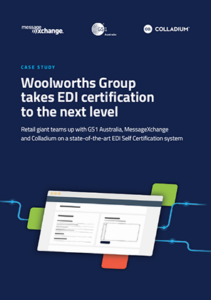 With more and more suppliers choosing EDI to trade with Woolworths electronically, onboarding suppliers to EDI with the existing resources and ensuring suppliers' EDI documents are built as per the MIGs presented a challenge to Woolworths' eBusiness team.
GS1 Australia is a long-time partner of Woolworths Group and works closely with the Woolworths eBusiness Team. GS1 Australia partnered with MessageXchange and Colladium to develop an electronic EDI certification and self-testing service (EDI Certify). Woolworths was keen to adopt this.
We saw this as a way to enhance our suppliers' EDI onboarding experience and bring real efficiencies to our EDI accreditation process
Read this case study to find out more.
Download this case study now
By submitting your details, you acknowledge that we may provide you with information as outlined in our Privacy Policy.
You can opt out of these emails at any time.