eInvoicing is changing the way we send invoices and other documents to our partners. Simply put, eInvoicing enables organisations to send and receive invoices electronically, directly to and from their software. It removes the need for unnecessary data entry and inaccurate OCR scanning.
eInvoicing happens through a four-corner model, where corners one and four are the supplier and customer, and corners two and three are Access Points. Access Points connect to each other to exchange eInvoices. You can think of it like a telephone network – your phone and your friend's phone are corners one and four, and your network provider (like Telstra, Optus or Vodafone) are corners two and three.
We're seeing eInvoicing rapidly expand around the world, especially in government agencies. In Australia, the government has promised to pay suppliers with contracts less than $1 million in 5 days if they issue eInvoices. It can be difficult for suppliers to decide what's best for their business. Here are some of the eInvoicing options you have as a supplier.
What are my options
Portal based eInvoicing
This option is the fastest to implement and has the least up-font costs. You can enter your eInvoices in a website and send them to your customer via the Peppol eInvoicing network. These are then received into your customer's software.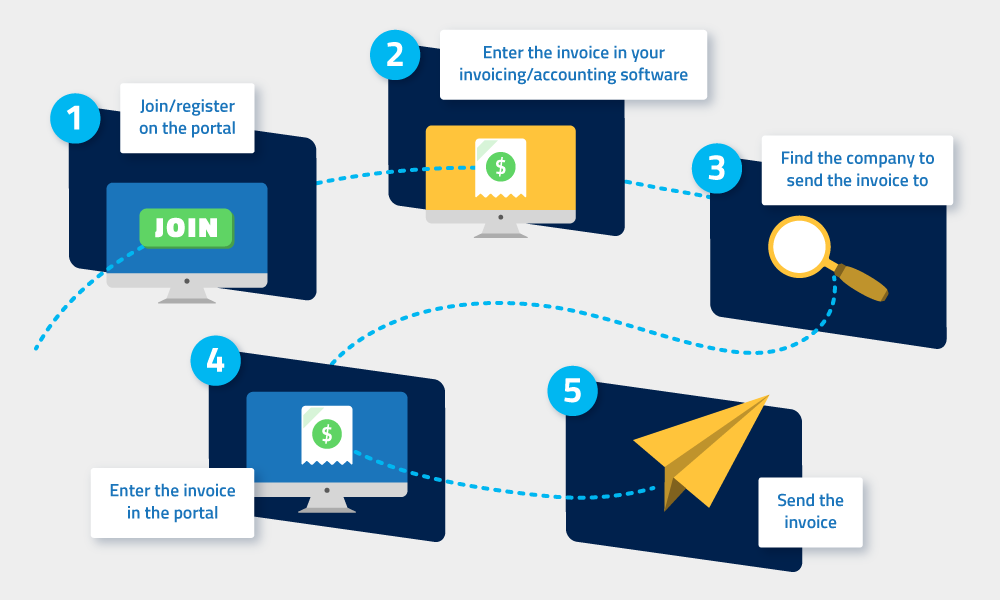 MessageXchange offers businesses a free portal, Colladium, which can be used to send eInvoices to businesses on the Peppol network.
There are a few benefits of using portal-based eInvoicing:
It's easy to set up
There's generally no establishment fee and low to zero monthly costs
It can be accessed anywhere – you only need an internet connection
They often have an easy-to-use interface.
eInvoicing integration/gateway
The more automated option is an eInvoicing gateway or integration. This allows you to send and receive eInvoices directly from your ERP or accounting software. This means you don't need to do any additional manual processes. Once you've entered the invoice in your existing software, it's then sent to your customer's software for them to process.

There are a number of benefits to an integrated eInvoicing solution:
It uses your existing software
You can find cost savings (paper, printing and labour costs)
There's no need for data re-entry
You'll see fewer errors
It's secure through encryption at rest and in transit.
What are my options
It's important to choose an option that is adaptable and flexible for your business. Two of the main factors to consider are:
The amount of orders you receive
As your orders increase, so does the amount of manual inputting.
Your strategic goals
Whether you're looking to automate your processes or just comply with your buyers eInvoicing requirements or incentives.
Use this table as a rough guide:
Consider portal based eInvoicing if…
Consider an eInvoicing gateway if…
You issue a small number of invoices a month
You issue a large number of invoices a month
You have a small amount of eInvoicing enabled customers
You have large amount of eInvoicing enabled customers
You just want to comply with a handful of buyers' requirements
You don't want to double-enter data
You're just starting out in eInvoicing
You need a flexible solution that grows as your business does
You want to reduce errors
If you're interested in learning more about eInvoicing options, fill in the form below and one of our experts will get in touch.
Request a call
Chat with one of our experts
Just fill out your details below and we'll be in touch within one business day.